Banned in France since 1997, asbestos is still present in many buildings. Asbestos fibres are considered highly carcinogenic, so it is important during every renovation or demolition to destroy every trace of it in the best case scenario. Franck Fer offers asbestos removal solutions. Our company is certified by Qualibat in order to offer you work of high quality.
Asbestos removal with optimum protection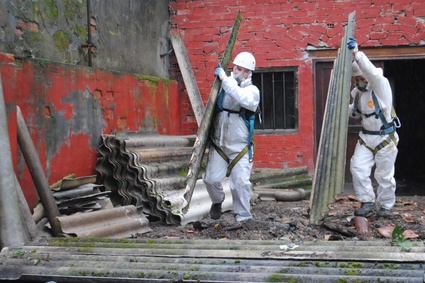 Asbestos in "blocks" poses no danger or particular concern. However, it is a brittle material and disposed to picking up large quantities of fibres in the air. These fibres are highly volatile and penetrate very easily into the respiratory system. It is therefore important to make use of all necessary protections when working. Of course, this requires a complete set of equipment for our workers who are first exposed to the dangers of asbestos. But protection of the surrounding area is also a priority, so we isolate the location of public works and prevent dispersal of the volatile particles.
Step-by-step removal of asbestos from our buildings and homes
The removal of asbestos requires a certain rigour that the technicians at Franck Fer follow meticulously for optimal working results.
Firstly, it is important to remove all dust from the site. The elements that have not been in contact with the asbestos are dismantled and moved to prevent any contact during subsequent operations.
Protective facilities are then arranged. The area is closed off and smoke is introduced to verify that the site is sealed. The workers are equipped with breathing apparatus and coveralls.
It is now time to proceed with the asbestos removal so to speak. The asbestos elements are sprayed with water. This technique allows the fibres and dust to be clumped together to prevent them from flying away. Once the asbestos is removed, the elements are washed, brushed and vacuumed.
The site is then controlled by collectors that remove dust from the air. It is then necessary to wait for 48 hours before dismantling the asbestos removal zone.
Finally, all that remains to be done is transport the items contaminated by asbestos to the ISSD (Installation de stockage de déchet dangereux/hazardous waste storage facility).
Explore our other areas of expertise related to asbestos removal
Enregistrer
Enregistrer
Enregistrer