The deconstruction of a building is an essential step in terms of ecology and development, and no longer a matter of demolishing buildings as recycling all or part of the elements of a structure.
Franck Fer, your environmentally aware deconstruction partner
Deconstruction companies have adapted themselves to new requirements in terms of respect for the planet. The deconstruction of buildings that we perform for a social landlord, a company wishing to construct or reconstruct, involves us taking several steps in a scheduled process:
an initial stage calls for demolition of the building, which, according to the case in question, requires the intervention of various types of equipment (cranes, hydraulic excavators, crushers, telescopic Bobcats) and personnel for the buildings requiring a flushing.
a stage involving selective sorting,
a removal of rubble and its recycling using various controlled techniques:

decontamination,
removal of asbestos,
removal of lead.
The various methods of deconstruction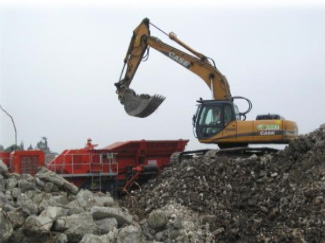 The deconstruction proposed by Franck Fer varies depending on trochanters:
One of the differences will be technical in terms of the location of the building to be demolished:
Inside (flushing of the building) or outside. The nature of the site is also important (is it a SEVESO site ?) but so is the height and shape of the structure to be demolished.
Also, in many cases, besides the techniques appropriate to concrete or to metallic structures, our teams are trained to manage the environment as well as to comply in terms of noise, dust or vibrations. We thus offer concrete crushing.
Explore our other jobs related to deconstruction and recycling